What is PRP? Autologous blood regeneration therapy
Platelet rich Plasma (PRP) refers to the blood plasma which contains
various growth factors that stimulate healing and regeneration in human
body. It is used for tissue regeneration and pain relief by separating and concentrating platelets in the blood.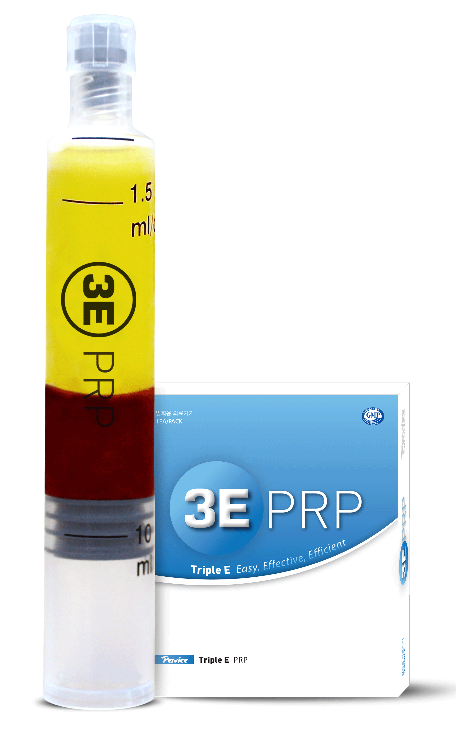 Roles of Growth Factors

WHY 3E PRP ?
1. High Concentration The higher the PLT count, the more effective it is for treatment.
2. Safety Syringetype kit can be centrifuged immediately after bloodcollection, minimizing infection or contamination during blood transferring process.
3. Convenience All components for the procedure are composed of one kit. Simple push up operation.
Where to use PRP ?
1. ophthalmology Dry Eye Syndrome(DES), Vision correction(LASIK,LASEK), Cataract, Oculoplastic surgery
2. Orthopedics/ Rehabilitation Tennis elbow, Knee cartilage repair, Shoulder Pain
3. Dentistry Implant surgery, Tooth extraction, Bone graft
4. Dermatology Burn, Bedsore, Chronic ulcer, Acne
5. Plastic surgery Skin rejuvenation, Fat graft
6. Alopecia clinic Hair loss prevention, Hair growth stimulation, Hair transplant
7. Obstetrics and gynecology Infertility, Urinary incontinence, Sexual dysfunction